Back to Blogs
MEET THE TEAM - MEET LUCIE, OUR GERMAN-SPEAKING RECRUITER ON GRAND CANARIA
​
​
Hello readers!​
​Today you get to know the star recruiters at Multilingual Jobs Worldwide. Next in line is Lucie our German-speaking recruiter. Continue reading to learn more about her.
​
​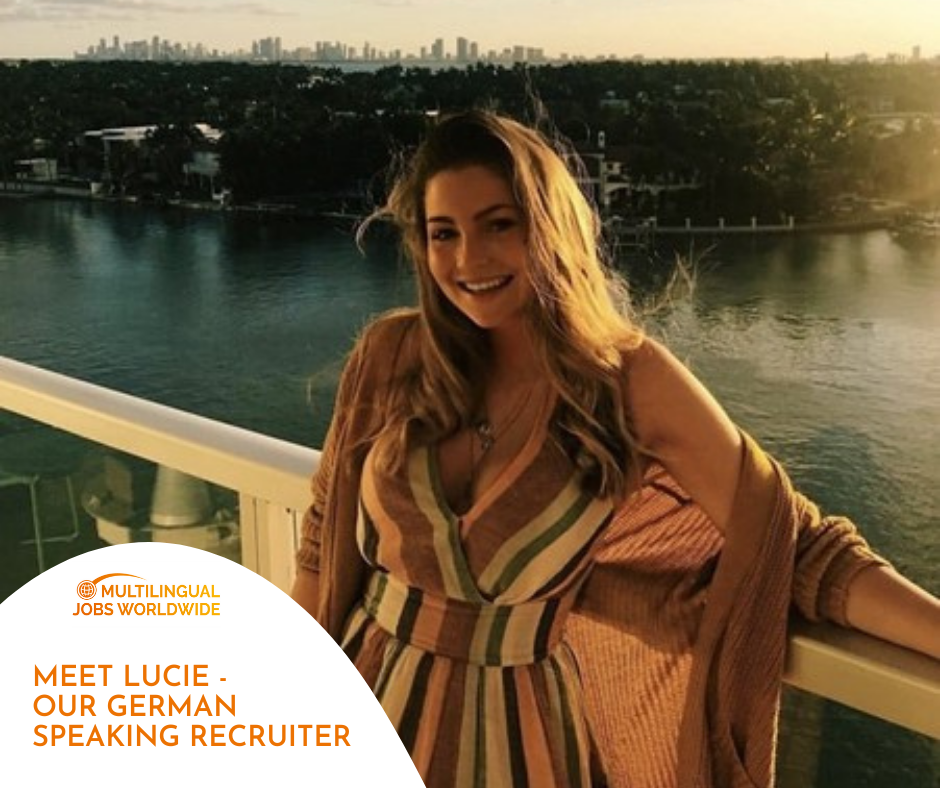 Tell me about yourself briefly
Hi, my nameis Lucie, I'm originally from Munich, but I always knew that I wanted to see and experience as many different parts of the world as possible. It started with spending much of my earlier time in Miami. When I was 15, after about 10 years in Munich, I felt the need to study somewhere else for a while. I moved to Brazil with15 and returned to Munich only to finish school. After school, I moved to Lisbon until finally this year I moved to Gran Canaria with my boyfriend, where I am currently staying. Surrounded by beautiful dunes, crazy landscapes, and warm weather all year long, I found my place, for now, we'll see where the universe takes me next 😉.
I believe in being a good person and doing what you love. I had the chance to find out what I love very early on and for me that part of self-discovery is very closely connected to at least once in your life experiencing the step to move abroad and start there from scratch. I love my job so muchbecause I can help people make exactly that happen for themselves.
​​
Three fun facts about you
​I am probably the clumsiest person in the world. I've had about twelve casts in my life already and if I go out and don't lose anything … that's great.
I have two golden necklaces and three rings that I never take off ever. It's been about 6 years since my grandma gave them to me and without them, I don't feel entirely complete

I love raw carrots and HATE them cooked
​
Tell us a little about your hobbies
​Pre Pandemic, I was really into all different kinds of sports, yoga, swimming, kickboxing, etc. During the pandemic, I started rediscovering my love for drawing and painting. I mainly draw portraits of women from different ethnicities. It brings me calm and reminds me that there is so much beauty in the world.
​I also like exploring my surroundings. In Portugal, there were amazing cliffs and castles and beautiful beaches and now on Gran Canaria, there is great weather, amazing mountains, and great tapas.
​
You work with recruitment, could you tell us more about your career?
​When I lived in Portugal, I worked in Sales. I also liked it a lot and I earned a lot of really valuable experiences in my time there. I wanted to switch things up a bit though and figured that I really wanted to get into recruitment to help other people make their dreams of going abroad, come true. After my first interview here, I knew that this job is exactly what I want to do. The company values and the nature of what I'm doing really match well with me and I am unbelievably happy that I was given the chance to do a job that makes me want to work every single day.
​
What has been your favourite travel destination so far and where would you go next? WHY?
My favourite destination is hard to pinpoint, but I think it's a tie between two.
​I love from all my heart La Gomera, which is also in the canary islands, but way smaller than Gran Canaria. It is a very calm place and there is just such a "hippie" vibe that it makes you forget about all the problems in the world. There are waterfalls and beautiful black beaches, mango and banana plantations everywhere and you can see all kinds of sea life just hanging out around the coast. Dolphins, rays, turtles, whales etc.
​The second one is Skopelosin, Greece. It's also a very quiet island with traditional Greek fishers villages all around the coast. I just love the nature there, it smells like herbs and thyme everywhere and the people are just so warm and nice. There are almost no tourists and the whole island just has this "Mamma Mia" vibe to it. My grandparents have a boat there, so there is nothing better in the world to me than sailing around the islands there, swimming with dolphins, and eating crazy cheap and amazing food.
​
What is the most extreme thing you have ever done in life or want to do in the future?
That is easy! The craziest but at the same time best experience I ever had, was an excursion through the amazon rainforest for a month. While I lived in Brazil, I knew that one thing I really had to see was the amazing Brazilian rainforest. We went on a one-month excursion, living on a boat with people my age from all over the world. We slept in hammocks, went to bed when the sun went down and woke up with the sunrise. There is no cell phone connection, disregarding the fact that I dropped my phone into the Amazon on the very first day anyways, so it is just you and the unbelievably amazing nature. I went piranha fishing, lived with an indigenous tribe in the forest, and learned about the flora and the wildlife in the forest by people that have lived there for generations. I even helped catch an Anaconda. The sunsets and the starry night sky there are unlike anything I have ever seen. No civilization, just sloths, beautiful birds, pink river dolphins, jaguars, alligators, adventure, and the freshest food you could possibly get. Everything self-made. You just constantly feel like in a movie or in a different kind of world than what you've ever known so far.
​I've attached a small photo of a sunset therebecause the whole river just turns red and it's incredible to see.😊
​