Back to Blogs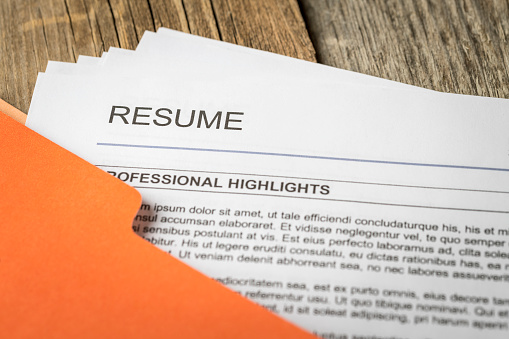 4 OF THE MOST COMMON MISTAKES YOU CAN MAKE WHEN WRITING YOUR RESUME
The first step to a successful application, is submitting a well-written and professional-looking resume. It´s the first thing a recruiter or company will see from you. So, essentially it´s your first impression!
Did you know that, on average, a recruiter scans your cv for only 5 seconds before deciding whether they should keep reading? That is how little time you have, to convince them your profile might be interesting for the position! Because of this, it is crucial that you avoid making mistakes such as the ones listed below. Here are four of the most common dealbreakers for recruiters, when scanning a cv.
First of all, typos. This comes across as if you didn´t put in a lot of effort and thus makes you look like you´re not that motivated to get the job. That, or maybe you don´t have a good eye for detail? Two things that are not really what a company will be looking for in their new colleague. Make sure your cv is correct and that it looks professional. This creates trust, that you will deliver work that is just as flawless and professional-looking.
It has been an ongoing discussion for quite a while now. Should or shouldn´t a cv include a picture? Recruiters don´t always agree on this. It´s in fact about preference and personal opinion. However always important is that, if you choose to add a photo to your cv, you make sure it´s a decent photo with a professional look. It can be good to give your cv a more personal touch, and to use a photo that says something about you as a person. However, try to avoid using for example a party pic or a duckface selfie. Keep in mind the professional context for which you are sending your cv.
When a recruiter scans your resume, they will likely be most interested in your latest working experiences, the things you´ve done recently. Because of this, it is common to list your work experience most recent to last recent, instead of chronologically. This way, the most relevant information hits the eye first.
Lastly, there is nothing more annoying than calling a number on a resume or sending an email to the provided address, only to discover that the number or the address is no longer in use. Make sure your personal information is always updated correctly. It´s how recruiters or companies will try to reach you, so you´re lowering your chances of success if you create confusion or misunderstandings with outdated information.
Good luck and remember, a recruiter´s here to help! If you are feeling insecure about your resume, ask for tips and we´d be happy to have a look at it.
For more information, email us at dutch@multilingualjobsworldwide.com!
​